Hello everybody
!

Jiang jiang ~
See what's here for me in a lovely friday afternoon .
Liese products!
Friends of mine should know
Imma great fan of liese lor ,
I also believe that it 'save' my hair
from getting bad to worst.
& make my hair smell nais-er.
Btw, FYI .
Its pro-naos as
"LEE-ZAY "
With Liese ,
Styling is made easier !
Use
Liese Juicy Shower !
Moisturising Hair Mist that is light weight, water based with sweet raspberry scent.
Can act as a styling base and quench hair dryness.
Rememeber cannot touch scalp ar !
So today I'm gonna show you you and you .
On styling with liese Waveup foam 01 ,
hairband & some bobby pins.
With Fringe.
& without.
My fringe's in a disasterous length ,
So pardon my ugly bare face.
This side also must apply the foam !
Before you tie .
And no doubts .
NO NEED RUBBER BAND.
Because the foam is actually strong enough to hold the hair firmly.
Just do the backcomb properly.
Hold them together !
Like tie-ing a half pony tail .
But dont "damage" the backcomb .
Its supposed to give more volume.
Twist the 'ponytail' by a bit
& use a pin or two to secure it.
If you have those pins that is like telephone cords.
One would be enough !
The back of the hairstyle .
I changed the hairband
Cause I think this one cuter!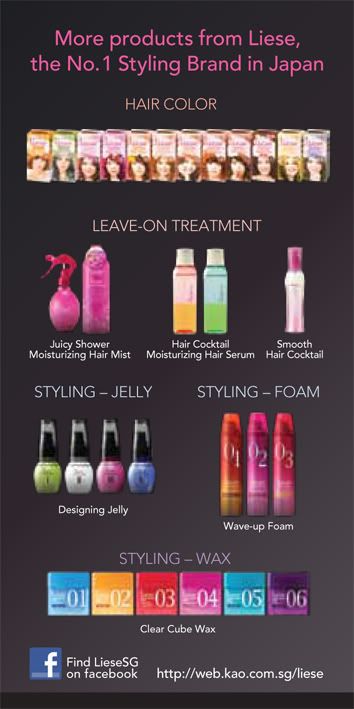 Liese's 全家福。
For more info : http://web.kao.com.sg/liese
Facebook
here
The products can be found at
Watsons, Guardian, Major supermarkets and hypermarkets
Thanks for reading !
Hope the tutorial is useful.
Love,
Angie Applepie