Thanks thesamplestore.sg for sending me more goodies !
Today's review on love more's masks !
Let me introduce the chiobu endorsers !
Taiwan Endorser : Tiffany Hsu
XU WEI NING !!!
xiaotian's girlf + autumn concerto's main actress !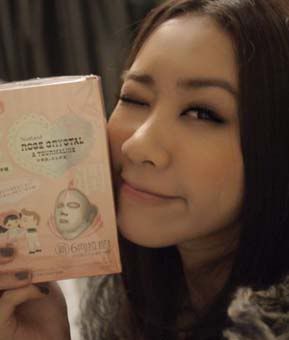 Hongkong Endorser : Kary Wu
WU YU FEI !!!
& also ,
its very popular among the taiwanese bloggers too !
Their reviews :
http://www.wretch.cc/blog/igisele/12617133
http://www.wretch.cc/blog/lovelyhebe/24084631
Nao , my turn to try it out!
Brazil White crystal & platinum peptide whitening duo lifting 3D mask
Princess packaging , i likey !
jiangjiang.
Main feature : Colloidal Platinum
Uses :revitalize, strongly moisturises and protects the skin,
enhances its ability to take in nourishing minerals,
recharge, re-hydrate and protect the skin leaving it with
healthy, brightening skin
Review :
I love the way that it covers all the way to the neck !
& the hooks at the side !
Comes in very handy when you wanna dance while doing a mask
/cheekysmile
Very moisturizing
& definitely very fitting .
You can do your work not having to worry about it drop .
The fragnant of the mask makes me feel very relax.
Its not very strong as well.
The itch was okay ,
& no side effects.
For the whole 20 mins ,
My facial muscles were really enjoying themselves.
VERY Relaxing.
Can really feel the tightening too !
Neck covered !
After doing the mask .
水
噹
噹
的哟~
My skin look less dry & healthy right ?
The next mask .
HEHE
My new pjs !
Cute or what !
All normal masks are packaged in envelopes !
In which to the country their ingredients are imported from .
For this , its japan .
Can you see ?
top left hand corner.
Camellia & Tourmaline whitening Mask
I REALLY LOVE THIS ONE !
ps taken with my blackberry >.<
Review:
I totally love this one!
Although this mask dont not cover the neck
& actually not really fitting for me
( as you can see , my face is quite small )
However , I still can continue doing my work
EVEN WITH THE MASK ON !
Also the fragnant is a sweet floral smell .
Make you totally feel like getting a pot of flower tea .
( as in for me lah actually)
Whitening 满分 !
我超爱这款的。
After the mask .
Got fair by alot righttt!!!
Both masks are very moist !
Even till the very end.
I could use the leftover to rub my hands .
Dont waste whattttt
Well , what works for me may not work for you .
Why not take a free sample first before buying from the store ?
Anyways !
Its available exclusively in Watsons
3D Mask 5 pcs @ $8.90
Mask 5pcs @ $7.90
Vday's coming .
Boyfs can consider this as a gift for your girls !
Trust me,
This is practical & they will love it .
& support me in the upcoming
Love More Facial Mask contest!
xiexieni ~
bye-bi !