Nuffnang Contest.


"Do Singaporeans dress badly?"
I hope I can win the first prize.
(笑)
& please let me win .
What do you think?
I think Singaporeans fashion is horrible .
I mean like okay la, not so super duper horrible.
I do follow a little of the jap & mixmix la.
But you can go to any random blogshop
& you will see all those clothes they all ,
ARE ALL THE SAME .
That's so not being creative.
My friends and I always see those
HORRIBLE DRESS CODE PEOPLE.
When we are travelling in buses, mrt
Or walking .
-.-
They are like just wearing some table cloth out .
*Faints*
I mean like seriously .
Then they walked & act like one bimbo.
Thinking that ,
They dressed like a diva.
Mygoodness.
& I also heard of this,
National Dress code.


Bermudas/Shorts/shirt/
Tshirt/Sleeveless/
Slippers/sandals.

Is that true ?
I dont think so .
Nowadays,
People are getting more & more kawaii .
Teens are getting more & more stylish .
I think that some people are just dumb in choosing their clothes.
Eg1 :
I saw people wearing SKIRTS & roller blading /cycling
I admire these people .
Aint they scared of falling down
& people seeing their underskirt ?
Awww, unglam.
Eg2 :
I seen people wearing ....
Those kuku couple tees!
Worst of the worst.
I WILL NEVER WEAR THIS OUT WITH MY BOYF ,
though I dont have one .
But ,
Its sooooooooooooo embarrassing .
Am I right to say so ?
Imagine if people everywhere dress like Harajuku girls ?
& Lolita Dresses ?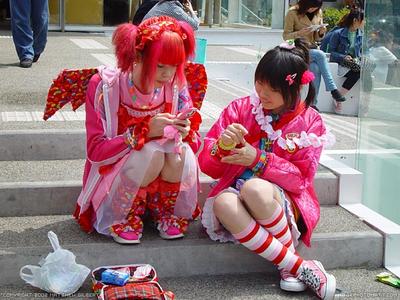 Lolita,
For those who didnt know .
But the thing is ,
If people start wearing like that in streets of Singapore.
Will it somehow turn into a illegial thing ?
My friends and I.
:]
I do agree that,
Sometimes,
Me & my friends just like to wear some random stuff.
Like hair accessories , tees,
& stuff.
LIME GREEN TEES
I regard it as a super zai color,
Oh, btw,
That's my class tee.
& I believe that if you see some people in
LIME GREEN TEES,
You will think that they are some
-environmental friendly people.
-NEA staff.
-Starhub worker.
-"I love Gaia " Singaporeans.
I cant find people of others wearing PJs.
:[
PJs are cute okay .
I like to wear Pjs.
I cant remember who .
But ,
Someone asked me if I & others whether we wear PJs.
& I answered proudly with a yes .
My favourite dress.
Which many thinks that its a PJ.
I love PJs okay!
When my friends ask me why I wear.
My answer will always be .
" Act cute ma ,like that then kawaii what.Like that then got 生活情趣what !"

Kudos for PJs!
Pleaseeeeeeee letttttttttt meeeeeeeeee winnnnnnnnnnnnnnnn.
Sayonara~